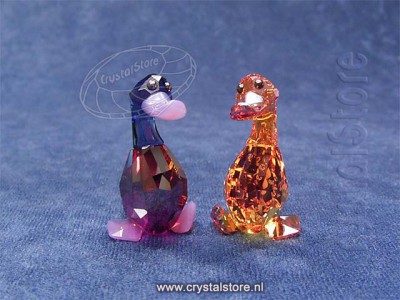 Lily en Luke
Brand: Swarovski 2010
Product Code:

1039868

System number

9100/000/182

Designer

Edith Mair

Approximate size

1 1/16 x 1 5/8 + 1 1/16 x 1 5/ inch

Retired

2012

Availability:

Out Of Stock
Lily and Luke, Pair of Ducks, Swarovski Lovlots City Park Collection
Amidst the constant buzz of Lovlots City you can find a true oasis of peace: the fabulously green City Park. This location is famous for the large lake, the creative layout and the wonderful landscaping. It is considered the most romantic area of the entire city. This is the place, that the City Park Lovlots call their home. Setting a perfect example of a happy couple is Lily & Luke who, with help from their friend Duke, take visitors on tours of the lake.
Did you hear? Oh do tell! Lily and Luke, a pair of ducks, are the neighbourhood gossips! Together they radiate a wonderful combination of colors that always attracts attention. Lily sparkles in Medium Topaz crystal and Luke sports an impressive Fuchsia Satin crystal body and tail.
Numbers
System number
9100/000/182
Designer
Designer
Edith Mair
Dimensions
Approximate size
1 1/16 x 1 5/8 + 1 1/16 x 1 5/ inch
Retired
Retired
2012