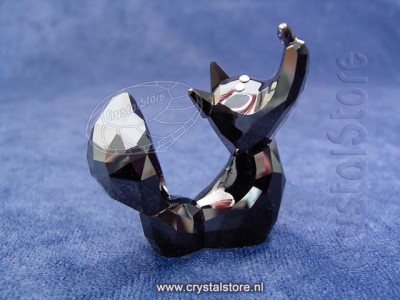 Max
Brand: Swarovski 2010
Product Code:

1039544

System number

9100/000/177

Designer

Peter Heidegger

Approximate size

1 9/16 x 1 13/16 inch

Retired

2012

Availability:

In Stock
Max, the Fox, Swarovski Lovlots City Park Collection
Amidst the constant buzz of Lovlots City you can find a true oasis of peace: the fabulously green City Park. This location is famous for the large lake, the creative layout and the wonderful landscaping. It is considered the most romantic area of the entire city. This is the place, that the City Park Lovlots call their home. The most adventurous character – Max, works together with Gracy to find exciting locations for couples to meet.
Seize the day! Max the fox is always on the lookout for new things, using his Jet Hematite ears and nose. He roams the park at night, camouflaged with his Jet Hematite crystal body. He sees everything thanks to his bright Pacific Opal crystal eyes.
Numbers
System number
9100/000/177
Designer
Designer
Peter Heidegger
Dimensions
Approximate size
1 9/16 x 1 13/16 inch
Retired
Retired
2012